Our latest project is situated in Acheson, Alberta, a growing industrial park that is seeing more high-profile companies building facilities here. The Frac Shack is the latest business to expand their operations in Acheson on this 5.38-acre site. Having broken ground in June, construction is proceeding nicely on the 34,571 ft2 office and shop.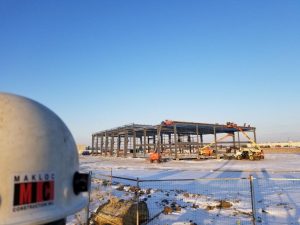 This Pre-engineered steel building is comprised of four main areas. A first level office of 6822 ft2, a second level office of 6,330 ft2, the shop of 19,439 ft2, and the shop mezzanine of 1966 ft2. The wide-open design of the shop will feature twelve total 18' x 18' overhead doors, allowing access for equipment to every part of the shop. The 10-tonne overhead crane will span the majority of the shop space, giving crane access to seven bays. The two floors of office space have your standard meeting rooms, workstations, offices, and washrooms. It does include one interesting space, the gym. The gym is a modern addition to the workplace as more companies are seeking to improve and encourage the health of their employees.
The building marries the modern, aesthetically pleasing requirements of a corporate office, with the rugged functionality of an industrial manufacturing shop. At MakLoc, we are known for our steel building construction. This project is another in our portfolio that demonstrates the advantages and potential of pre-engineered steel building construction.
Not always, "a metal box", we are able to create buildings to the highest standards of appeal. The exterior highlights will give the building a sharp, prominent look to it, immediately drawing the eyes of people passing by. The front will be accented by an angled window structure as well as a large sign, that will jut out as part of the building. Alternating colours will be used to add pop to the exterior. The location of the project is on a busy intersection that will allow the Frac Shack name to stand out to passing vehicles each day.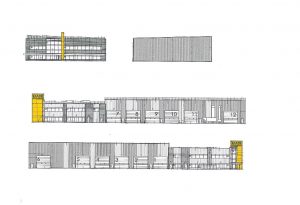 We at MakLoc are proud to be the general contractors for this exciting project, this building will be an attractive addition to the Acheson Business Park in Parkland County. As always, be sure to stay tuned for updates on our social media accounts.