MakLoc is excited to announce our newest project and contribution to the growing Edmonton International Airport development. The project will break ground on an 85432 ft2 site with a building footprint of 24,692 ft2. This two storey multi use commercial building will bring up to 13 new businesses to the E.I.A.
The exterior combination of metal cladding and stone will provide a modern stylish look. The building will be covered in 1" thick grey tinted windows which will provide natural light and appealing view of the airport to tenants and customers, while also exceeding thermal and solar energy requirements. On the ground floor there are 9 commercial rental units ranging from 930 ft2 to 3445 ft2. The common areas feature a large corridor with washrooms and an elevator. The businesses will all have exterior access to the North, South and West sides providing coverage and accessibility to every side of airport road. The upper floor is designated for 3 offices of varying sizes that give the future companies a great view of the area while being in a central location. The most exciting space on the second floor is without a doubt, the daycare. At 8500 ft2 in size, with access to a 3200 ft2 patio, this space will be in high demand from professionals working at the airport.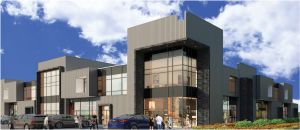 The goal of the project is to provide another shopping and business centre in the bustling heart of the airport lands. The tenants will be situated in a space that sees upwards of 22,000 vehicles per day. A diverse makeup of businesses will be sure to bring something for everyone and offers a restaurant to appease the lunch and dinner crowds. MakLoc is excited to be a part of the ongoing transformation of the area. The Premium Outlet Mall, Costco, Horsetrack, Casino, and Aurora's facility will be bringing even more traffic, energy, and entertainment to the area making it a place to be and a veritable attraction to the region.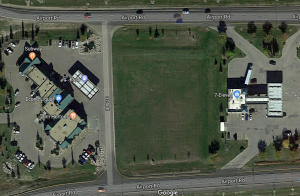 At MakLoc, we have over 15 years of experience in turning project dreams into reality. Our biggest strength is our people and experience. Our team has over 50 years of construction experience in the industrial and commercial sector. Quality, communication, safety, and a focus on delivering on time are what drives us on all our projects. The satisfaction of the owner and the push to our common goal has led us to success and we will continue that trend through this project and beyond.